Our Process
At Dasher, our philosophy is that qualified candidates who are aligned with the Dasher Way are precious. We move quickly through our process and we never divert from it.  We do not wait to find two or three candidates to make a hiring decision.   Dasher's interview to hiring timeline can be as little as 7 business days.
Our Steps
Identifying Candidates
Once we have identified a potential candidate, the direct supervisor for the open position reviews all available information—including the potential candidate's social media posts—to decide if this is someone we want to get to know.
We do a 30-45 minute telephone interview that typically involves two people asking a very specific set of questions to look for alignment with our values and a natural desire to learn and grow.
Here are some of Dasher's telephone screening questions:
Tell me about a time when you had an assignment and were stumped. What did you do?
Tell me about a time when you experienced conflict with a fellow employee. What did you do?
Tell me about a time when you made a mistake.
On-Site Interviews
Each promising candidate is invited to spend about 90 minutes with us. Two Dasher leaders will probe more deeply drawing on the substantial bank of interview questions we developed.  Here are some of our interview questions:
Describe a decision you have made recently that had an important effect on you.

How did you go about it?
How has it turned out?
How did you involve others?

Tell us about a recent change you experienced at work. Was it a good idea or bad idea and why?
Talk about something you had to get done and you didn't know how to do it.
How have you helped someone recently?
After the On-Site Interview
If the interview goes well, we check references immediately. For most hires, Dasher also has a testing process to understand personality traits directly related to the Dasher Way, such as positivity and accountability.  For positions requiring a relatively higher level of cognitive skill, we will administer a cognitive test as well.
In our next blog entry, we'll talk about the final steps in our hiring process.  Some say it's tough but finding and making sure each candidate is a fit for our values and our team is critical to success.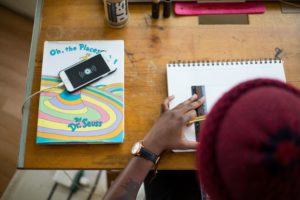 If you want this blog to come directly into your email box, please sign up on Dasher's website.  You can also subscribe to Dasher's video blog on LinkedIn, 90 Seconds.  Each week we have a different guest talking about the importance of helping economically fragile workers be successful in their life and their career.